MULTISAR = Multiple Species at Risk.
Our name also reflects the multiple partners we work with to reach our goal of conserving Species at Risk through habitat stewardship, while maintaining viable ranching operations in Alberta's native grasslands.
We recognize that many of the species and habitats found in Alberta's grasslands exist because of the positive practices of the ranching community. The MULTISAR program gives ranchers and farmers suitable tools to continue this tradition in modern times. To date, this collaboration between agencies and landholders has resulted in the voluntary stewardship of grassland species on over 382,000 acres in southern Alberta.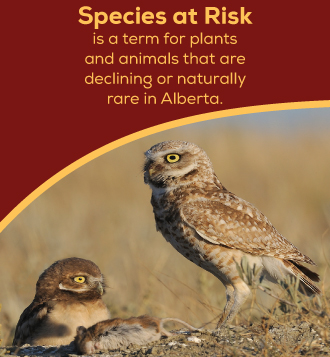 Our primary partners are landholders (mostly ranchers), the Prairie Conservation Forum, Alberta Conservation Association, Alberta Environment and Parks, Cows and Fish, Canadian Cattlemen's Association, Alberta Beef Producers and Canadian Roundtable for Sustainable Beef.
Financial and in-kind support was generously provided by: